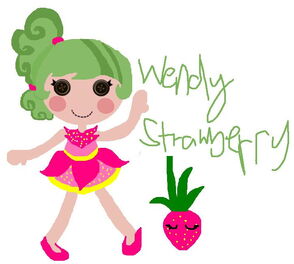 Wendy Strawberry was sewn on February 27 (National Stawberry day). She was sewn from a strawberry.
When her last stitch was sewn, she became alive and ready for anything, so together with her pet Strawberry, they go out to have fun all day long!
Personality
Wendy Strawberry is a very boyish Lalaloopsy. She likes to dress girly, but she has generally been, in means, a girly-girl. She always acts like a tomboy and can often be found conversing or just playing with the boys rather than the girls, but not always.
Wendy also really adores nature and can often be found planting trees. However, Forest has a habit of chopping them down…
She's sweet and friendly, and always calm in nature, so it's hard to frustrate and upset her.
Likes: Strawberry Short Cake
Dislikes: Wearing Hair Dress
Friends: Patch , Forest , Ace , Emily , and Rock.
Appearance
Wendy is a pale skinned girl with basic black button eyes and warm pink blushing cheeks. She has ivy/olive colored hair worn to the side in a "princess curls" style, segmented with fuchsia scrunchies. Her short bangs spike while framing her face.
Wendy can often be found in girly dresses. Her most basic being a soft pink dress with fuchsia details at her neck and flowery petals at her waist. The neck piece and skirt are covered in glitter. At the hem of her top and skirt has yellow lining. She also wears plain fuchsia flats.
Home
Her house is strawberry shaped and surrounded with trees and strawberries. She has a small picnic table near her house. Her roof is filled with strawberries and is made of leaves.
Pet
Wendy's pet is a cute fuchsia colored strawberry with very long green leaves at the top of its head. Its eyes are often closed.
Trivia
Gallery
Ad blocker interference detected!
Wikia is a free-to-use site that makes money from advertising. We have a modified experience for viewers using ad blockers

Wikia is not accessible if you've made further modifications. Remove the custom ad blocker rule(s) and the page will load as expected.