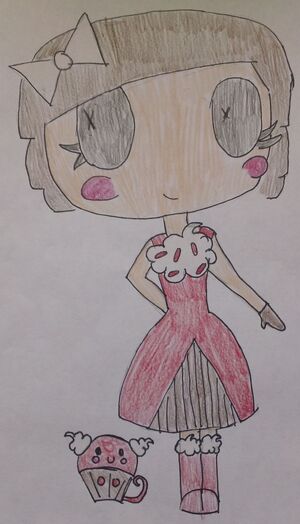 Velvet Rich n' Creamy is a large Lalaloopsy doll. Her birthday is national cupcake day which is on December 15th.
Personality
Velvet is kind to everyone in Lalaloopsy Land. She always tries to find the bright side of things. She loves baking and eating all of her delicious treats! She dislikes getting messy. 
Appearence
Velvet has the standard black eyes as most Lalaloopsies do. Her cheeks are peach and she has fair skin. Velvet's hair is chocolate brown and done in the same style as Sunny Side Up. She has a white bow. Her dress is a red tank that has white frosting with red sprinkles at the top of the dress. It then cuts open to reveal a brown wrapper like fabric. Her gloves are also brown. Velvet wears red boots with more white frosting at the top of them.
Pet
Her red velvet cupcake mouse is about as cute as they come! Her ears are two dollops of white frosting. Her eyes are black and her cheeks are light pink. Her eyes, mouth, and cheeks are on  the cake portion of the cupcake. Her tail and paws are also red but are on the brown wrapper.
Home
Her home is a giant red velvet cake that she baked and frosted herself.
Friends
Her best friends are Bun Bun Sticky Icing and Choco Whirl Swirl. She often is having a bake sale with them. 
Trivia
 Her original name was Velvet Sweet Fluff but I then realized Toasty Sweet Fluff had that name.