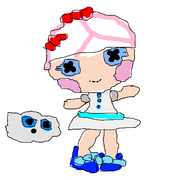 Chill E. Sky
Sewn From A Hot Air BalloonSewn On October 4-12 Albuqurque Balloon Fesival 2014Pet:Cloud==Appearance== Chill E. is a fair skinned girl with blue eyes and pink cheeks. She has white hair with pink streaks in the style of Specs Reads-A-Lot. It has two red bows. One on the top, and the other on the left handed side. Her dress is gray with blue buttons, dark gray short sleeves, and has a turquoise belt. She has Blue and Turquoise Shoes in the style of Trinket Sparkles. Chill E. Does not have wings or a halo like a real angel.==Personality== Chill E. is the leader of her school's bird watching group. She loves cloud watching and flying, but she doesn't have wings! She plays with her sister Cloud E. Sky and her other sister Heaven Le Sky. She also plays with the rest of the angels.  ==Trivia==
Chill E. was sewn for 8 days, so she may be the oldest Lalaloopsy Doll.
Chill E. is the Second Little and Fourth Doll with Multicolored Hair. Her sister has "Spray Paint." 
Chill E. got her name because the sky when it is chilly.
Chill E.'s pet cloud is the only pet with blue eyes.
Friends
Loopin Figure Eight
Touble Dusty Trails
Aloha Tiki Wiki
Twirly Tumbelina
Scrambled Side Up
Ad blocker interference detected!
Wikia is a free-to-use site that makes money from advertising. We have a modified experience for viewers using ad blockers

Wikia is not accessible if you've made further modifications. Remove the custom ad blocker rule(s) and the page will load as expected.