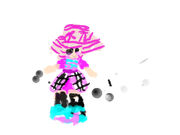 Bonjour Suzette here me and mah bffs made an ask blog ask us anything.
Jessica:hey whasup yo im Jessica I luv rocj n roll music AND HATE OLD TIMEY MUSIC!
Emily:um hi..............................................  ALRIGNHT YU CAUGHT ME IM A LUNA FAN OKAY!
EVERYONE CALM DOWN GEESH!
sorry botu dat  they argue alot now ask away n yes I do requests
Ad blocker interference detected!
Wikia is a free-to-use site that makes money from advertising. We have a modified experience for viewers using ad blockers

Wikia is not accessible if you've made further modifications. Remove the custom ad blocker rule(s) and the page will load as expected.