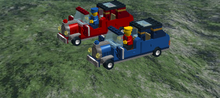 Town Cars are the main form of public transportaion on Lego Island. They take the lalaloopsies everywhere they went on the island in A Sew Bricktastic Adventure.
About
The town cars are owned by Nubby Stevens and are basically chauffeur driven cars with no roofs over the driver's cabs with only the passenger cabin being enclosed. On Lego Island often if anyone's going more than walking distance then they're going in one of these town cars. Unlike taxis town cars can't be flagged down they have to either be called over or parked somewhere "If this is the case then the chauffeur driving the car must be asked if he is availible".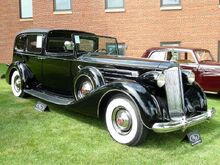 A town car is an early version of a limousine. The town car was a popular design from the 1900s to the 1940s. In the 1920s town cars were fitted with canvases that can be pulled over the driver's area to keep the driver dry.
Ad blocker interference detected!
Wikia is a free-to-use site that makes money from advertising. We have a modified experience for viewers using ad blockers

Wikia is not accessible if you've made further modifications. Remove the custom ad blocker rule(s) and the page will load as expected.