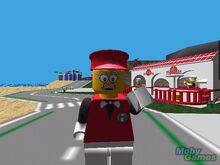 Hello! Hola, Wilkomen, Bienvienue, Konichiwa, Aloha! How are you doing? You and in any language, welcome to Lego Island! ~ the Informaniac in Lego Island
The Infomaniac runs the Information Center on Lego Island. He is the creator of Lego Island and was involved in building the Lalalego Railway which runs from Lego Island to Lalaloopsy Land.
Personality
Canon
The Infomaniac is the creator of Lego Island and even built the Brickster almost 40 zillion years ago. But when he announced that he was going to build more legoes the Birckster went ballistic and betrayed him by stealing bricks to build his own town which he called "Ogel". The Infomaniac is always happy to help a new friend and always gives advice whenever he can. - http://lego.wikia.com/wiki/Infomaniac
Fanon
The Infomaniac was involved in building the Lalalego railway along with Pepper Roni, Bill Ding, Engineer Max, Conductor Charlie and the Station Master. When the Lalaloopsies were visiting Bedrock he became a close friend to Bea Spells-A-Lot for the fact they they both have interests in knowledge. During her visit Bea even served as his assistant in the Information Center. He know most of what goes on on Lego Island and after the town was connected to Lalaloopsy Land by the railway he's been keen to know more about Lalaloopsy Land and lalaloopsies themselves and Bea taught him most of this information.
Appearance
The Infomaniac is a lego with a gray mustache. He wears glasses, a red officer's hat, a red shirt with black sleeves with the letter I within a grey circle on the left side, white gloves, white trousers and a white bow tie.
Trivia
He's the host in the 1997 PC game Lego Island.
While in the Lego Island game he tells the player he/she must be a lego person in order to visit Lego Island while in A Sew Bricktastic Adventure this wasn't the case where Crumbs, Bea, Jewel, Peanut, Spot, Rosy, Ace, Patch, Marina and Peggy were always lalaloopsies.
Ad blocker interference detected!
Wikia is a free-to-use site that makes money from advertising. We have a modified experience for viewers using ad blockers

Wikia is not accessible if you've made further modifications. Remove the custom ad blocker rule(s) and the page will load as expected.