A Lalaloopsy Crossover parody of The Berenstain Bears.
Forest Evergreen as Brother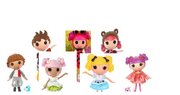 Teddy Honey Pots as Sister
Lucky Lil Bug as Lizzy
Ace Fender Bender as Freddy
Alice in Lalaloopsyland as Millie
Blossom Flowerpot as Queenie
Sir Battlescarred as Papa Bear
Lady Stillwaiting as Mama Bear
Wacky Hatter as Too Tall
Patch Treasurechest as Smirk
Pete R. Canfly as Skuzz
Mittens Fluff 'N' Stuff as Stacy
Sunny as Babs
Bea as Bertha

Story
The Berenstain Lalas always have a great day at Lala Country.
Teddy (Sister): It's a beautiful day!
Forest (Brother): Sure is!
Lucky (Lizzy): Hi, Sister (Teddy) how's it going?
Teddy (Sister): Good Lizzy (Lucky)!
Lucky: Oh that's great!
TO BE CONTINUED!!
Ad blocker interference detected!
Wikia is a free-to-use site that makes money from advertising. We have a modified experience for viewers using ad blockers

Wikia is not accessible if you've made further modifications. Remove the custom ad blocker rule(s) and the page will load as expected.