Sunny Sapphire is a bright, happy Lalaloopsy sewn on July 8th from a sun dress!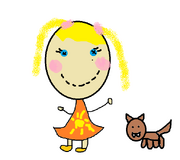 She enjoys the warmth and brightness of the sun and her theme colors are shades of yellow and orange. Her pet is Howlie, a brown wolf.
Personality
She likes the sun and anything related to it. She is very warm, friendly, and inviting.
Appearance
Sunny has yellow/blonde hair with two pink rubberbands. She has a beauty mark/mole just above her pink cheeks and below her blue eyes.
She wears a orange dress with a yellow sun and gold shoes.
Pet
Sunny has a pet wolf named Howlie. He is brown and has small fangs.
Home
Trivia