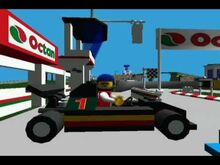 Eat my bricks pal! - Studs Linkin in Lego Island
Studs Linkin is Lego Island's most famous race car driver. He's the champion of the Lego Island race course. He drives the black #1 car.
Personality
Canon
Studs is presumably the son of the late race car driver Hot Rod Linkin. He's very arrogant but egostical. He usually makes up excuses for his loss after a race. His secret is that he uses a super spicy pizza (possibly Papa's jalepeno, red pepper, anchovy and double garlic special) to get thirsty so that he tries to finish a quickly as possible so he can get a drink of water. - http://lego.wikia.com/wiki/List_of_LEGO_Island_Characters#Studs_Linkin
Fanon
In a Sew Bricktastic Adventure he introduces Peanut Big Top to racing, where she can enter and build a car and Peanut, Jewel, Spot and Ace enter the race and build their own racing cars. Peanut wins the race with Studs coming in second he told her he lost because his colors were flashing.
Appearance
Studs wears sunglases with blue lenses, a black racing helmet, a red racing jacket with white sleeves and black racing trousers.
Trivia
Studs Linkin is a character from the 1997 PC game Lego Island.
In Lego Island there's a possibility he might also occasionally drive the red #3 car. In one scene during the tow truck mission he cries "I've got to finish the race, I've got to fininsh the race!" then continues on a bicycle.
Ad blocker interference detected!
Wikia is a free-to-use site that makes money from advertising. We have a modified experience for viewers using ad blockers

Wikia is not accessible if you've made further modifications. Remove the custom ad blocker rule(s) and the page will load as expected.