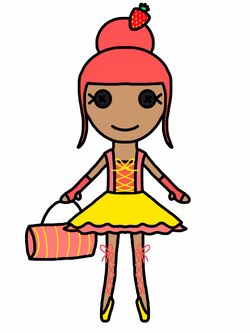 Personality
Straw B keeps healthy by eating lots of tasty fruit (especially strawberries) and dancing! She loves to jump, twist and twirl around, but she sometimes gets dizzy! She is friends with Tippy Tumblelina, Serena C. Blue, Perry Blueberry and Mani Kee Neko.
Appearance
Straw B has red hair in a bun on top of her head. She has a strawberry hair clip. She has black eyes and tanned skin. She carries a pink gym bag with yellow stripes. She wears a ballet dress with a red & pink lace-up top and a yellow & pink tutu. She wears yellow ballet shoes with red ribbons. She has red arm warmers. She doesn't have a pet.
Details
Sewn on: 13th May
Sewn from: A red tutu
Pet: None
Trivia
She is in a story called "My Shimai"
She is also in a story called "I'm Warm Now"
Ad blocker interference detected!
Wikia is a free-to-use site that makes money from advertising. We have a modified experience for viewers using ad blockers

Wikia is not accessible if you've made further modifications. Remove the custom ad blocker rule(s) and the page will load as expected.