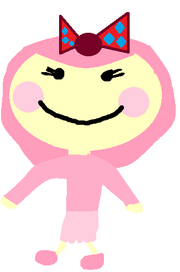 Stella is a photographer fashion edition doll 2012. She is coming soon to releated in 2013 to all fashion Lalaloopsy dolls.
Personality
She likes fashion photographer and fashion dresses, Gorgerous diamonds and other fashion stuff.
Appearence
She has pink hair, red bow with gorgerous blue diamonds, pink dress and skirt, typical black button eyes, pink blushy cheeks and pink shoes.
Pet
Her pet is a pink cat with red ribbon on her tail and she wears a pink dress like her and she wears a red bow with blue diamonds like her.