Sparrow Tells A Tale is the little sister of Feather Tell-a-Tale.
She is the first Lalaloopsy little to use a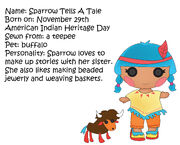 braided hairstyle.
Drawn by missflyingtoaster (Melissa Smith) using Adobe Illustrator.
Sparrow Tells a Tale

Type:

Lalaloopsy Little

Sewn on:

November 29th

Sewn from:

A teepee

Pet:

Buffalo
Personality
Sparrow loves to make up stories with her sister. She also likes making beaded jewelry and weaving baskets.
Appearance
Sparrow has blue hair with two braids.  She wears a red headband with a feather which is removable.  She has a swede poncho like shirt with blue fringe and orange triangles. Her pants are orange with red detail. Her slippers are yellow with red soles and blue fringe trim.
Pet
A buffalo with white horns, brown fur, red ears legs and muzzle, and a blue tail.
Home
Sparrow lives in a teepee
Ad blocker interference detected!
Wikia is a free-to-use site that makes money from advertising. We have a modified experience for viewers using ad blockers

Wikia is not accessible if you've made further modifications. Remove the custom ad blocker rule(s) and the page will load as expected.