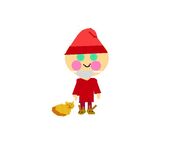 Sleepy Fairest is Snowy Fairest's little brother! He is a little dwarf baby who loves a good nap. He was sewn on March 11 (National Napping day), and was sewn from a dwarf's hat. His pet is a cat.
Personality
Sleepy is a little dwarf who loves to have fun... when he's not sleeping, of course! He loves to nap and play dress-up with anyone he can find, from Snowy to himself to his cat!
Appearence
Sleepy has sea-foam button eyes and a red hat. Underneath the hat is brown hair in Ace's hairstyle. He has a fake grey beard that has elastic to hold it on. He also wears a dark red shirt that is a little too big, and mahogany pants. His shoes are brown boots that are made to look like bunny slippers.
Pet
His pet is an orange cat with stripes. It has closed eyes and does not have blushing cheeks.
Home
Sleepy lives with his sister, Snowy.
Merchandice
Lalaloopsy Littles Sleepy Fairest full size doll
Snowy and Sleepy full-size 2-pack
Trivia
Sleepy, being a dwarf, is slightly shorter than most Littles.
He is best friends with Blanket Featherbed.
He is based off of Sleepy from the Disney movie Snow White and the Seven Dwarfs.
Ad blocker interference detected!
Wikia is a free-to-use site that makes money from advertising. We have a modified experience for viewers using ad blockers

Wikia is not accessible if you've made further modifications. Remove the custom ad blocker rule(s) and the page will load as expected.