Shana Grrs-a-Lot was sewn on July 31 and sewn from something furry.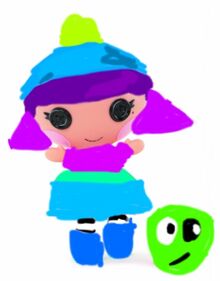 She loves to play all the time and bother her sister.Sometimes she stomps around like her sister And scares herself.
About Shana
She has a purple,light green,and blue dress
She has one horn one her hat.
Her hair is muticolored.
she has blue shoes.
her recolor is Mimi la sweet
Pet
She has a green monster.
Personalty
Mabye Nice not sure yet
Appernece
August 12 2016
Home
Lives with her sister Furry grrs a lot
Triva
COMING SOON
Ad blocker interference detected!
Wikia is a free-to-use site that makes money from advertising. We have a modified experience for viewers using ad blockers

Wikia is not accessible if you've made further modifications. Remove the custom ad blocker rule(s) and the page will load as expected.