Sew Sweet Girl



Type

Full size doll

Sewn from

A candy maker's dress

Sewn on

October 28 (Candy Day)

Pet

Candy cat
Sew Sweet Girl is a Lalaloopsy that is almost invisible to the naked eye!
Personality
Sew Sweet Girl loves making sweets for her friends, but never shares her own sweets! She's nice and airy, and some days can be found floating around in the breeze!
Appearance
Sew Sweet Girl is a beautiful puce dress with puffs at the end and a slightly darker pink strip in the middle with black stitches around it, while the dress is outlined with black stitches.
Pet
Sew Sweet Girl has a pet candy cat. Her pet is a pretty white feline with darker brown spots on the top of its head and back. Her kitty just love peppermints!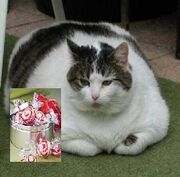 Home
Sew Sweet Girl's home resembles Candy Land, while her house is filled to the brim with mouth watering candy!
Trivia
Sew Sweet Girl is the first "invisible" Lalaloopsy!
Sew Sweet Girl is friends with Crumbs Sugar Cookie and Suzette La Sweet.
Gallery
Ad blocker interference detected!
Wikia is a free-to-use site that makes money from advertising. We have a modified experience for viewers using ad blockers

Wikia is not accessible if you've made further modifications. Remove the custom ad blocker rule(s) and the page will load as expected.