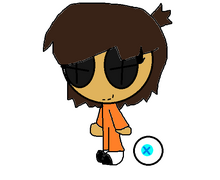 Name: Sent E. Portal
Sewn On: April 11 (Portal 2's anniversary)
Sewn From: Aperture Science Uniform.
Pet: Core:
Description: Sent E. Portal loves to jump and go through Blast A. Portal's portals! Her pet core is kind but a little derpy. (Just DON'T tell him that!)
Trivia
Her Pet core is based on Wheatley, the second game's antagonist (but only in the second half.)
Her pet can get angry when other Lalaloopsys call him "derpy". This is based on the fact that Wheatley doesn't like being called a moron.
Like her sister, she doesn't talk much.
Ad blocker interference detected!
Wikia is a free-to-use site that makes money from advertising. We have a modified experience for viewers using ad blockers

Wikia is not accessible if you've made further modifications. Remove the custom ad blocker rule(s) and the page will load as expected.