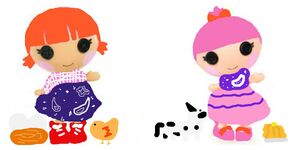 Scrambled & Apple are the first ever Lalaloopsy Littles Twins! They were made by Aliahvenicegarcia.
Personality
Scrambled: Scrambled loves to see chicks hatch from their eggs and loves to eat Scrambled Egg.
Apple: Never stops eating pancakes and loves to hug animals.
You can find Scrambled & Apple here: https://www.facebook.com/media/set/?set=a.368307746589287.91362.345950482158347&type=3
Sewn On: October 4 (World Animal Day)
Sewn From: A Farmer's shirt and Overalls
Appearance
Scrambled: Scrambled is a fair skinned girl with black button eyes and pale pink cheeks. She has orange hair with her bangs that have gaps and cute little pigtails on the side. Scrambled wears a blue dress with Pink and white stripes.
Apple: Apple is a fair skinned girl with black button eyes and pale pink cheeks. She has pink hair with an orange ribbon on top. Apple wears a pink dress with Blue stripes.
Pet
Scrambled: Her pet is a chicken!
Apple: Her pet is a cow!
Trivia
Scrambled Egg is a type of egg. Scrambled's name was supposed to be Scrambled Egg only. Because that Lil' Sisters need to match their last name to their Big Sisters, We named her Scrambled Egg Up.
Apple does not know how to dance.
In their picture, Scrambled looks taller than Apple. But, In real life they have the same height.
Ad blocker interference detected!
Wikia is a free-to-use site that makes money from advertising. We have a modified experience for viewers using ad blockers

Wikia is not accessible if you've made further modifications. Remove the custom ad blocker rule(s) and the page will load as expected.