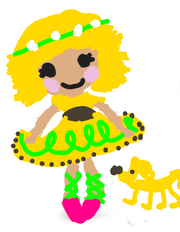 Sally Sunshine is a character. Her birthday is on March 1st. She is the twin sister of Sam Sunshine.
Personality
Sally is optimistic and cheerful. She can shine a ray of light into the coldest person's heart. She looks on the bright side and sees the best in everything and everyone. She is girly and likes pink, dresses, glitter, sparkles, puppies, kitties, cute animals, rainbows, hearts, stuffed toys. Despite having this trait, she is also athletic and good at every sport. She is so good she even got to be on the football team! She is an expert gardener and enjoys caring for her garden. She can grow the tallest sunflowers in Lalaloopsy Land! In school she is a very good student. She is well behaved and gets straight A's. Sally is in all the clubs in school. She is extremely helpful and is happy to provide service in the community. Her motto is "The Best Nation is Donation!" She donates to charity, and donates money at her church. Just so you know, Sally has never made a mistake in her life. She is active and eats her fruits and veggies. Sally is kind and caring. She makes someone's day brighter when they are blue. Sally is friends with every single kid in school, even the grumpy Robert Rain, who secretly likes her.
Appearance
Sally is a fair skinned girl with black button eyes and pink cheeks. She has short curly blonde hair. She has a green headband with white flowers. She has a yellow dress with a brown satin ribbon. On her skirt are green loop-de-loops. Underneath are brown dots. She had pink sandals with green ribbons. She is apparently taller than the other Lalaloopsies.
Pet
Her pet is a yellow dachshund whom has red ribbons in its ears. It had golden fur which Sally brushes constantly. Sally takes good care of Dachshund.
Home
Sally lives in a yellow two story house with green trimming. On the side of her house is a big balcony with assorted flowers.
Trivia
She is a great singer and a talented actress.
She is capable of speaking multiple languages.
Her purpose is to be a Mary-Sue.
Ad blocker interference detected!
Wikia is a free-to-use site that makes money from advertising. We have a modified experience for viewers using ad blockers

Wikia is not accessible if you've made further modifications. Remove the custom ad blocker rule(s) and the page will load as expected.