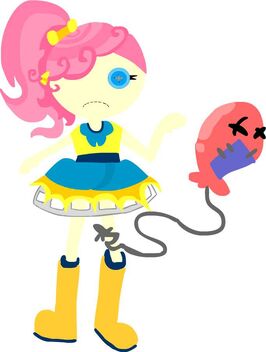 Sadlina Lonely Heart is a very gloomy doll because she's badly sewn and doesn't know who her creator was.
Personality
She is pessimistic, gloomy, and depressed.
Apperance
She has pink hair in a poofy ponytail and one blue eye. 
Pet
A Dead Balloon.
Home
A house surrounded by a storm cloud.
Merchandise
Gallery
Ad blocker interference detected!
Wikia is a free-to-use site that makes money from advertising. We have a modified experience for viewers using ad blockers

Wikia is not accessible if you've made further modifications. Remove the custom ad blocker rule(s) and the page will load as expected.