Princess Club is the 9th episode of the New Adventures of Mint E. Stripes.
Cast
Princesses
Suzette
Tippy
Jewel
Cinder
Ivory
Enemies
Other Relatives
Holly
Scarlet
Pete R.
Sir
Alice
Plot
Princess Club is an Academy by Jewel Sparkles. Suzette is a new girl, but as soon as she met Pix E., Things got worst.
Script
Suzette:Hi! I'm Suzette La Sweet. And I pulled down my curtains and decorated the halls with school stuff. "BAYYE MOM!"
Bea:You are very pretty. Please um.......
Peanut slaps Bea.
Bea:Please go check out Pix E. Flutters classroom
Suzette:But I thought I've
Peanut:Please go now. Please go now.
Suzette:Fine! -_-
Suzette:Hi I am Suzette.
Pix E.:OH HAIII! You are pretty. Become my friend NOW! And I'm looking at you, Ivory.
Ivory:NEVER! Hi there. My name is Ivory. That over there is Pix E. Flutters. She wants everyone that is beautiful to become in her group because she only thinks about * Continues, Whispering * herself. She is taking revenge to make ugly girls her slaves.
Pix E.:Hi Holly and Tippy! You 2 are beautiful. Wanna sit at lunch together and take revenge on the whole entire universe?
Tippy:No. * Walks away *
Holly:Are you going to take revenge on the Multiverse?
Pix E.:And I am also taking over the Multi and Tripleverse
Holly:Not in. * Walks away *
Pix E.:Hey there evil girls I never knew! Want to take revenge on the whole entire Multiplex?
Snowy:I am Snowy. I read diaries after school and I am always the Hall Monitor. Sure I should!
Goldie:What's a Multiplex?
Pix E.:The Multiplex is all the universes in well........the Multiplex.
Goldie:OOOOOOH! My name is Goldie. I bring a dozen pranks a day and play on the court when I'm not supposed to. YEAAA I COULD!
Pix E.:We are taking revenge to the other pretty princesses, Including Alice and Holly.
Alice:So, my mom eats coconut shells and my dad likes cucumber seeds!
Jewel:Marina and Wacky? THEY ARE SEWWWW SILLY.
Mango:What's up!
Cinder:Can I join?
Snowy:Marina and Wacky are SEWWWWWWWW embarassing! EWWW...Mango is sitting next to Suzette! *Steals Suzette's Diary, rewrites it, and reads it out loud*
Here is what she rewrote:
Hi! I'm Suzette La No Sweets. And I pulled down my curtains underwear and decorated the halls with school. "BAYYE NUNYA BIZNEZ MOM!"
She also rewrote the same plot to Mango's diary:
Hi! I'm Mango Thick Wiki. And I am a killer. I farted.."I HATE YOU ALL!"
Snowy grabs Mango's hand and replaces the pen with a knife.
Everybody but all the friends ran away.
Mango and Suzette get in detention.
-At Office-
Peggy:Suzette. Why did you pull down your underwear, and Mango, why did you make everyone run away?
Mango:But it was-
Peggy:That you had a knife in your hand.
Suzette:It's
Peggy:I CAN'T HEAR YOUUUUU! Say it louder.
Mango:a-
Peggy:DETENTION! *Points to the door*
Holly runs to the door
Holly:M-
Peggy:DETENTION!
Holly:B-
Peggy:Go in the order of Pix E.
-At detention-
Goldie places a whoopie cushion on Suzette's chair right before she comes in.
Suzette "farts". And the whole detention was laughing. Even Mrs.Peggy and Suzette herself.
Holly:Umm...We didn't mean it. It was okay. c;
Tippy walks by.
Tippy: PIX E. HAS JUST GOT MANGO'S SUPER AWESOME PEN!
Pix E.: It's mine.
Mango: Hey! Give it back!
Suzette: YOU ALL SHUT UP!
Peggy: TIPPY, DETENTION! PIX E., YOU ARE FINE!
-After detention-
Goldie: Hey, Suzy.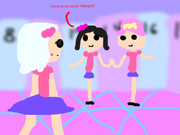 Suzette: Suzette
Snowy: Come to our party TONIGHT!
Suzette: Really?
Snowy: Everyone will be there, but you
Goldie: *Whispering* Keep your emenies closer.
Snowy: Okay, you will be there.
Suzette: Alright.
Goldie: The party is at 6:00. Ends at 8:30. At my dorm.
Suzette: Goodbye!
to be continued
Ad blocker interference detected!
Wikia is a free-to-use site that makes money from advertising. We have a modified experience for viewers using ad blockers

Wikia is not accessible if you've made further modifications. Remove the custom ad blocker rule(s) and the page will load as expected.