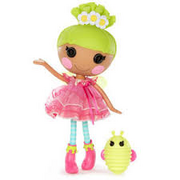 Pix E. Flutters is a magical sprite who lives in Lalaloopsy Land. She is a wishful-thinker who always looks on the bright side, literally! She absolutely adores glitter and can often be found surrounded in it, or putting it on things. She's also very easy to find when playing hide and seek because of this. Pix E. is the older sister of little Twinkle N. Flutters and Flying 'N' Flutters. Her name is a pun on pixie as well as her fluttering wings
About Pix E.
Pix E. Flutters is a light brown skinned girl with pink pale cheeks and black button eyes. Her hair is green colored and worn up in strands like a ponytail or bun, held up with multiple white daisies. Her bangs are pulled back but with few loose strands. She wears a pink multi-layered skirt, frilled dress with a plain tank top styled top, the ends of the sleeves resemble her skirts lining, which consist of shiny magenta or light pink strings. She also has a magenta ribbon at her chest, sky blue and white striped stockings, and pink boots with green markings along the top.
Pet
She has a pet firefly with pink wings.
Trivia
Coming Soon!!
Gallery