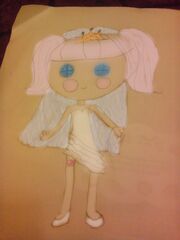 Pearly Sweet is a cute wedding themed Lalaloopsy! She was born on __ and was made from a bridal veil of a very happy and lovely bride. Pearly's job is to make Decorations like accessories and decor!
Her pet is Sweety Dove, and her theme colors are pure white and silver with small amounts of pale blues and pinks.
Personality
Pearly Sweet is a very graceful and gentle girl. She isn't necessarily shy or bashful, but she prefers to be a "pacifist" and keep peace amongst others. She does not like to argue or fight, and wishes to keep it that way, even if it means lying to please others. Confrontation tends to give her tummy pains or headaches, so she does her best to stay away from those who may seem upset or angry.
With her grace and beauty, she loves to dance and perform with both Tippy, and Jewel. While she, Suzette, and Toasty often hang out, have a tea party, or play dress up! She is a very lovely sweety, though due to her interest, some tend to think she may be egotistical or a fancy snob.
Likes: Love, romance, bells, jewelry, fancy ball gowns and dresses, beauty, soft music
Dislikes: Dirty things like dirt and mud, storms, super windy days, sadness, heartbreak
Friends: Suzette, Jewel, Tippy, Toasty
Appearence
Pearly is a fair-light skinned girl with soft blue eyes and pink cheeks. She has long, straight worn, very pale pink hair with straight cut bangs that she may sometimes put into curled ringlet pigtails. On her head she wears a tiara or veil.
Pearly usually wears very fancy white wedding dresses, though much shorter to resemble a sun-dress, with pearled jewelry, white gloves, and white shoes. She usually changes her fashion a lot though, so that she may show off her cute decor and what-not. But she never dresses in casual, or boyish clothing. Her outfits usually have diamonds or pearls decorating them, usually with silver or pale blue coloring.
Pet
Pearly's pet is a Cute, fluffy dove she usually calls "Sweety Dove". It coo's and makes happy little clicking sounds. When upset or surprised, its feathers puff up!
Home
Pearly's home is a very fancy chapel with many big, silky white ribbons decorating both her home and small heart shaped bushes. The path leading to her home is lined with rainbow pearls, while the pathway is a golden carpet leading to the front white double door. At the very top of the home is a big bell that Pearly can use to ring every day at exactly noon.
The trees around Pearly's home has many silk decorated ribbons decorating them. She also has a small heart shaped pond to the side of her home.
Trivia
It's unknown if Pearly is actually married or not.
Gallery
Ad blocker interference detected!
Wikia is a free-to-use site that makes money from advertising. We have a modified experience for viewers using ad blockers

Wikia is not accessible if you've made further modifications. Remove the custom ad blocker rule(s) and the page will load as expected.