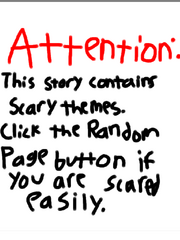 This is currently a fanfiction being set up by Splendorman123. But since it seems he will be distracted he will allow this to be a group project. Anyone who likes depressing to uplifting fanfics can help.

Plot
---
Battlescarred wears long sleeves every day to hide the scars on his arm that he makes bleed every day. Lady has broken up with him for another lalaloopsy and she wasn't even sorry. In the school most lalas pick on him and torment him. Once he gets home he usually isolates himself in his room. The only ones that were really concerned were Suzette, scraps, patch. It starts as Suzette and Scraps are fangirling over yaoi while walking out on the streets. They see a beaten up Battlescarred crying. Though they are concerned they just walk away. Then a blonde hair lalaloopsy happens to notice and stops by.

Cast
---
Suzette
Scraps
Jewel (bully)'
Most canon lalaloopsys (bullies)
Ocs (extras)
Type
---
Oneshot
Shout outs
---
I GIVE A SHOUTOUT TO LENNEH FOR GIVING ME THE IDEA TO SHIP THESE TWO ADORKABLE MANIACS
AND A SHOUTOUT TO GTESSARI FOR OUR RPS WE USED TO DO :D
Ad blocker interference detected!
Wikia is a free-to-use site that makes money from advertising. We have a modified experience for viewers using ad blockers

Wikia is not accessible if you've made further modifications. Remove the custom ad blocker rule(s) and the page will load as expected.