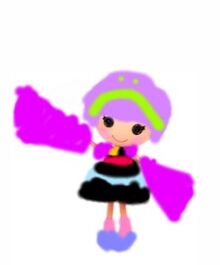 Mystery Myth is really shy like Scraps she exposes myths sometimes but she's tiny alright she's a recolor of Charms Seven Carat.
Personalty
She's nice
Apperance
November 11 2015
Pet
sorry to say this but it died
Home
A ghostly town
Triva
Friends:Scraps,Candy, & Pumpkin
She only hates Boo
I her amimetion she dosen't have her frowny face the blue part of her dress, and the shoes & socks
She was sewn on 10/31
Sewn from a ghostly scarf
She first appered in Halloween
Ad blocker interference detected!
Wikia is a free-to-use site that makes money from advertising. We have a modified experience for viewers using ad blockers

Wikia is not accessible if you've made further modifications. Remove the custom ad blocker rule(s) and the page will load as expected.