Melody B. Sharp is the little sister of Harmony B. Sharp.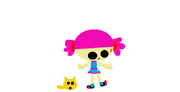 Personality
Melody loves writing lyrics and making up goofy dances to go with them. She has a sweet voice and adores the spotlight. All of Melody's friends love listening to her wonderful songs and watching her awsome moves. Her friends are always trying to dace and sing like her but Melody has a very special talent.
 Appearance
Melody has white skin and her hair is about the shade of pink her sister has. She also has the standerd black eyes and pink cheeks. She wears a blue dress with pink around where her neck is and has a pink belt. At the bottom of her dress is pink lace. She also has blue socks and black flats with red bows on them. Her pet is a yellow-orange kitten.
Functions
When you press her tummy, her pigtails spin to 7 great songs:
1. The Lalaloopsy Shake (parody of Hippy Hippy Shake)
2. Button-Eyed Girl (parody of Brown-Eyed Girl)
3. Dolls Just Wanna Have Fun (parody of Girls Just Wanna Have Fun)
4. Boogie-Woogie Loopsy Doll (parody of Boogie-Woogie Bugle Boy)
5. The Lala Slide (parody of the Cha Cha Slide)
6. The Lalaloopsy TV show's theme song
7. Every pet you take (parody of Every Breath you Take)
Her kitten doubles as a jingle bell.
Ad blocker interference detected!
Wikia is a free-to-use site that makes money from advertising. We have a modified experience for viewers using ad blockers

Wikia is not accessible if you've made further modifications. Remove the custom ad blocker rule(s) and the page will load as expected.