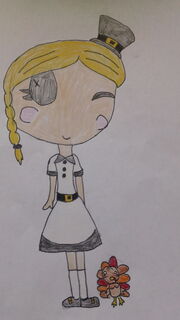 May Belts n' Buckles was sewn from a pilgrim's hat. Her birthday is Thanksgiving. She is the 2013 holiday doll.
Personality
May is up for any adventure and is the loyalest friend you will ever meet. She is very old-fashioned. Her best friend is Feather Tell a Tale.
Appearance
May has black eyes, peach skin, and pale pink cheeks. Her blonde hair parts up the middle and goes into a side braid ties together with a black hair tie. May wears a black hat with a buckle. She has a black collar with a white top. Her cuffed sleeves are also black. She has three buttons stopping at the middle of her shirt. She wears a belt with a yellow buckle. Her skirt is black, but May wears a white apron on top of it. She posses white long socks with black shoes. Her shoes have buckles on them.  
Pet
Her pet is a turkey. His feathers are brown, red, and orange. His beak and claws are yellow. His gizzard is pink. His favorite food is corn. 
Home
She lives on the seas of Lalaloopsyland on the Mayflower.
Trivia
Ad blocker interference detected!
Wikia is a free-to-use site that makes money from advertising. We have a modified experience for viewers using ad blockers

Wikia is not accessible if you've made further modifications. Remove the custom ad blocker rule(s) and the page will load as expected.