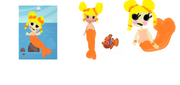 Though mermaid, Lydia McGilroy acts like your average kid. She is sensible, practical and doesn't like to make waves, although sometimes she can get caught in a BIG splash. Her birthday is on June 20th, the Mermaid Parade on Coney Island. She has a pet clownfish.
Personality
Lydia considers herself an average merkid-she has a goofy dad, an overworked mother, an annoying younger brother and a large shell collection. If she could change her last name, it would be "Ordinary".  She does very well academically, but the other merchildren think she is weird because the abnormal thing about Lydia is that she can talk to sea animals-fish, seahorses, turtles, etc. While the mean merkids do their own thing, during recess, Lydia secretly goes to the Coral Reef to play with her animal friends. Coral, Sand E, Ocean, and Pearl are always gossiping about her.
She is always warned not to go up to the surface, because she might get captured or she'll die from lack of water. But, Lydia got the courage to sneak up to the surface on her own. Throughout her special, she is shown to be brave and defendant of her fellow animal friends. She bonds better with the human children than with the mermaids. She is friends with Marina, Matey, Patch, and Peggy. She can turn into a human and can walk on dry land. She stopped all the underwater residents (including herself, the animals, and the bullies) from becoming an all-you-can-eat buffet.
Appearance
She has fair skin with bright pink cheeks and black button eyes. She has a peach top with tiny white polka dots. She has an orange tail. During her time as a human, she has an peach shirt with white polka dots. She has orange shorts and orange tennis shoes.
Home
She lives in a blue two story underwater house with her mom, dad, and brother.
Trivia
She is the only Lalaloopsy with a ordinary last name
She has a crush on Patch Treasurechest
Ad blocker interference detected!
Wikia is a free-to-use site that makes money from advertising. We have a modified experience for viewers using ad blockers

Wikia is not accessible if you've made further modifications. Remove the custom ad blocker rule(s) and the page will load as expected.