Love Stillwaiting is the little sister of Lady and Duke. Her pet is a Unicorn.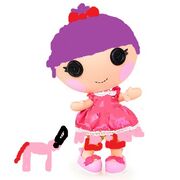 Love Stillwaiting can't wait until she's in charge. She likes to boss her big sister Lady and her little brother Duke around and loves making rules. Her favorite game is playing castle or fort.
She is born on April 25th (Cute-a-Like Day). She is sewn from a cute dress.
Ad blocker interference detected!
Wikia is a free-to-use site that makes money from advertising. We have a modified experience for viewers using ad blockers

Wikia is not accessible if you've made further modifications. Remove the custom ad blocker rule(s) and the page will load as expected.