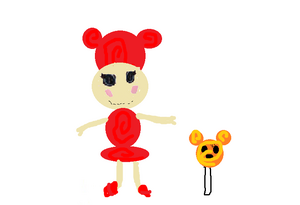 Lolly lick N pops is coming out in a set with Brownie triple fudge,Peppermint candy sticks and,Sweet E cupcake
Personality
She loves to enjoy her dreams in lalaloopsy Land about candy but she hates to stick around for to long.                         

She also was seen in the shoppe girls series she's close friends with Sugar fruit drops
Pet     
Her pet is an orange lolly pop bear                                   
Ad blocker interference detected!
Wikia is a free-to-use site that makes money from advertising. We have a modified experience for viewers using ad blockers

Wikia is not accessible if you've made further modifications. Remove the custom ad blocker rule(s) and the page will load as expected.