Little elementary to learn more.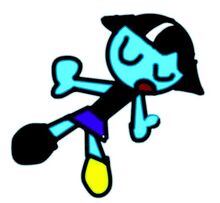 Transcript
Streamers:OMG!Mcbarf is the worst place ever!
Giggly:Like yeah!
Tricky:Breeze is a tottal loser.
(Streamers trows her table at me)
Me!?
(I avoid it)
Me(sigh)Phew that was close.I wonder where Mallow is?
Mallow:Hey Breeze have you seen Teen Titans Go!?
Me:Um....No.
Mallow:Crazy day is the worst for lalaloopssies.
Me:Now I know,well iv'e seen Waffles.
(Streamers throws Mcbarf food at me & I dodge it)
Everywone well not Me,Mallow,Whispy,Matey,Dream,Thunder,Fright,Needle & Gizmo:FOOD FIGHT!!!!!!!!!!
Me:(to myself)Oh no.I don't have a choice.
Matey:It's not a time for a food fight(doges gross fries)& besides stop it!
Gizmo:(agrees with Matey)GUYS STOP IT!!!!!!!!!!!!!!!!!
Needle:(agrees with the 2 boys)Think what you have done Streamers.
Wishes:Ya right needle!
Needle:I WASN'T TALKING TO YOU WISHES!
Wishes:Wut?
Gizmo:(get's out the death lazer)Fine deal with this!
Wishes:Wut?
Gizmo:Dewbbie! STOP IT!
Me:(to myself)Oh no the death lazer!
Streamers:(trows gross fries at the death lazer)You'll never do it!
Gizmo:(pushes a button)TO LATE!
(the elementry blows up)
The End
Trivia
Ad blocker interference detected!
Wikia is a free-to-use site that makes money from advertising. We have a modified experience for viewers using ad blockers

Wikia is not accessible if you've made further modifications. Remove the custom ad blocker rule(s) and the page will load as expected.