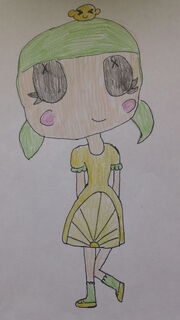 Lemon Sweet n' Sour was made from a lemon table cloth. Her birthday is August 20 (lemonade day). She is a large doll that came out with Velvet Rich n' Creamy.
Personality
Lemon is as sweet as sugar and loves to make lemonade with her best friend Pepper Pots n' Pans. Her expression can easily go sour when her lemonade goes wrong.
Appearence
Lemon has cute black button eyes, pink cheeks, and lime green hair. Her hair is done in the style of Scarlet Riding Hood. She wears a yellow dress with puffed out sleeves. They have green lace at the bottom. Her skirt turns into half a lemon. Her socks are laced and green, but Lemon's maryjanes are a cheery yellow.
Pet
Her pet is a cute little lemon plushie who helps Lemon stir her lemonade. His favorite part is tasting it!
Home
Lemon lives in a orange upside-down teacup. The lip of it is white with yellow spirals. Lemon likes to climb the handle and then slide down. Outside of her house is a lemonade stand Ace built for Lemon.
Trivia
- Lemon makes other lemon goods such as lemon cake and lemon cobbler. She just perfers to make lemonade more because it's easy to make and brings a smile to her friends faces when they try a new batch.
Ad blocker interference detected!
Wikia is a free-to-use site that makes money from advertising. We have a modified experience for viewers using ad blockers

Wikia is not accessible if you've made further modifications. Remove the custom ad blocker rule(s) and the page will load as expected.