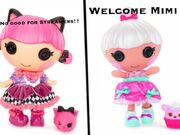 Name: Lelli kelly rose
Sewn on: march 11th (make a commercial day)
Sewn from: an italian designer's shoes
Appearance
Lelli kelly is fair skinned girl with black button eyes, pink hair in pigtails and pale pink cheeks. She has a dress with pink top and a green ruffle skirt.
Personality
Lelli kelly loves making commercials by countries from around the world, she also makes how to do hair extension videos.
Pet
Cow with pink and green.
Trivia
She is the make up dolly with eyeshadow, blush and lipgloss.
She is the first make up dolly appearing on commercials 2013/2014.
Ad blocker interference detected!
Wikia is a free-to-use site that makes money from advertising. We have a modified experience for viewers using ad blockers

Wikia is not accessible if you've made further modifications. Remove the custom ad blocker rule(s) and the page will load as expected.