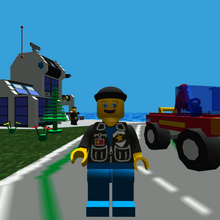 Disputes do happen here on Lego Island but most can be solved with a little understanding. ~ Laura Brick in Lego Island
Officer Laura Brick is one of the police officers on Lego Island. She is Nick's older sister and a good friend to everyone on the island except of course for the Brickster.
Personality
Canon
Laura is a skilled motorcyclist and often uses a motorcycle to patrol the island. She is very friendly to everyone she meets. Laura helps Pepper read because he's never been to school. She's the complete opposite of Pepper because she's very bad at math. - http://lego.wikia.com/wiki/Laura_Brick
Fanon
Laura is very kind and gets to know the lalaloopsies very well. is one of the officers who helps get the Brickster back in A Sew Bricktastic Adventure. She became a close friend to Jewel Sparkles who even made her along with Mama Brickolini and Nancy Stubbins members of her Pricess Club.
Appearance
Laura is a lego girl with blue eyes. She wears a black police jacket with a zipper with her police badge on her left and a name tag on the right and wears a blue T shirt underneath. She also wears blue trousers and a black baseball cap.
Trivia
Laura is one of the main characters from the 1997 PC game Lego Island.
She's the only female police officer on Lego Island.
Ad blocker interference detected!
Wikia is a free-to-use site that makes money from advertising. We have a modified experience for viewers using ad blockers

Wikia is not accessible if you've made further modifications. Remove the custom ad blocker rule(s) and the page will load as expected.