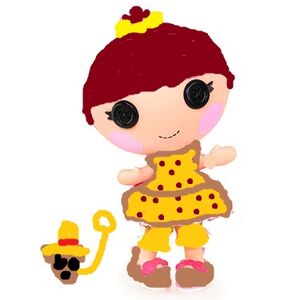 Lasso Dusty Trails is little sister of Prairie Dusty Trails. She loves riding horses.
Pet
Her pet is a Cowbear. A Cowbear has brown skin and has a lasso!
Likes and Dislikes
Likes:
Matey Anchors
Trinket Sparkles
Sprinkle Spice Cookie
Twinkle N. Flutters
and Bundles Snuggle Stuff
Dislikes:
Specs Reads-a-lot
Squirt Lil Top
Blanket Featherbed
Whiskers Lion's Roar
and Stumbles Bumps 'N' Bruises
Ad blocker interference detected!
Wikia is a free-to-use site that makes money from advertising. We have a modified experience for viewers using ad blockers

Wikia is not accessible if you've made further modifications. Remove the custom ad blocker rule(s) and the page will load as expected.