Lalaloopsy Babies: The Magical Adventures of Pillow Featherbed is a Lalaloopsy Babies related webshow about the adventures of a baby Pillow Featherbed, and her mother Goldilocks (Teddy Honey Pots)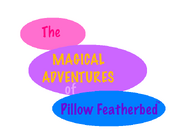 About
The series concenrates on Pillow alone at first, but maybe after a few months another baby will appear, however it is unknown who it could be. It is going to be flimed in the creator's room with Pillow in a Baby Annabell  pram, with Goldilocks beside her. Goldilocks is Pillow's mother and takes care of her, but Alice in Lalaloopsyland could be the mother of the next baby to appear in a few months after the first episode is posted on YouTube. It is not going to be animated, but will take place in a live action pace. The series will deal as a genre of "life as a baby" explaining what struggles a baby will face (Making friends, having a thirsty day, etc).
Characters
Pillow Featherbed is the main character and the character that is mostly focused on. She tends to be very nice on the inside, but has a lot of problems on the outside growing up. She tends to have habits (forgetting, biting, etc) like a normal baby. She is very clumsy, and likes to sleep a lot.
Goldilocks (Teddy Honey Pots) is the mother of Pillow. She wears a bear costume, to represent Goldilocks and the Three Bears, a fairytale about a girl who goes to a house owned by three bears - Daddy Bear, Mummy Bear and Baby Bear. She is very aware of Pillow's habits and usually the public ask questions (from Series 2) and gets offended by most of them. 
Unnamed Mother (Alice in Lalaloopsyland) Will be a mother of a unknown baby that is still to be confirmed. Could be called Alice. (Might appear in Series 2, See below for more info on the baby)
Unknown Lalaloopsy Baby (Possibly Jewel Sparkles) Will be Pillow's friend, but at first they will not get on.
Trivia
Goldilocks and the Unamed Mother both have a familar role, as Alice and Goldilocks are both characters from fairytales.
Gallery
NOTE: This gallery is for offical works only. Please refrain from putting fanart in this gallery and use the gallery below for fanart.
Fanart
Feel free to add fanart to this gallery.
Ad blocker interference detected!
Wikia is a free-to-use site that makes money from advertising. We have a modified experience for viewers using ad blockers

Wikia is not accessible if you've made further modifications. Remove the custom ad blocker rule(s) and the page will load as expected.