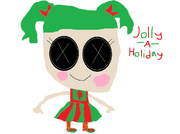 Jolly-A-Holiday was sewn on Dec 23rd and she loves jolly holidays and Christmas! She also likes Candy Canes, chocolate and Christmas candy!
Appearance
Jolly is a fair skinned girl with green hair put into two pigtails held with to bright red bows. She has black eyes.
Her dress is having a red frame and inside it was a red Christmas tree print and a green background. She has red and green stripes on the bottom of her dress. She wears light green and red striped socks and green shows with 2 red buttons connecting to each shoelace.
Pet
Her pet is a Present. The present has red wrapping paper and a green ribbon on the top. She has light green eyes.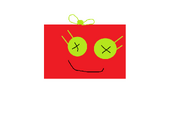 Home
Her home is with red and green stripes.
Ad blocker interference detected!
Wikia is a free-to-use site that makes money from advertising. We have a modified experience for viewers using ad blockers

Wikia is not accessible if you've made further modifications. Remove the custom ad blocker rule(s) and the page will load as expected.