It is a tv show and will be Based off Peppa Pig.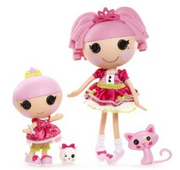 Season 1
PREMIERE: Jewels and Tiaras
Tippy Tumblelina (episode)
Trinket's Birthday Party
The Chalky Program
Spot vs. Jewel's Evil Carrots
Time Travel
Shopping
The Fair
Trace E. Invades Lalaloopsy Land
Spot's House Tour
Games
Cool Days
Trinket buys an expensive balloon
The School Fete
Drawing
Spring Cleaning
Computer Trouble
Pancakes
Emerald Quest
FINALE: The Dark Curse (1 and a half hour special)
Season 2
PREMIERE: Dens
Tippy Comes to Town
Tour of Tippy Studios
Flying on Holiday
The Holiday House
Camping on Holiday
End of Holiday
Bad Jokes
Road Games
Fruit Day
Pix E. Flutters' Computer
Happy Mrs. Chicken
Very Hot Day
Very Cold Day
Golden Puddles
Round in the Tubby
Jewel and Trinket's Beautiful Garden
Batter Up Again!
Emerald-itis
It's A Gift Wrap
FINALE: The Big Battle Against Trace E. Doodles (1 and a half hour special)
Season 3
Scavenger Hunt
Cooking
Trinket meets Dora
MORE COMING SOON
Season 4
Season 5
Ad blocker interference detected!
Wikia is a free-to-use site that makes money from advertising. We have a modified experience for viewers using ad blockers

Wikia is not accessible if you've made further modifications. Remove the custom ad blocker rule(s) and the page will load as expected.