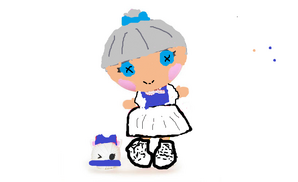 Appearance
Ivy is Ivory's little sister! She has shiny skin with the same shade as Ivory. She has the same boots and she wears a white tutu skirt and a blue glittery top and a fluffy white cardigan. Her cheeks are pale pink and her hair is silver. Her eyes are blue.
Pet
Her pet is a snowball with a blue tutu.
Home
She lives with Ivory. 
Merchandise
Ivy Snow Diamonds littles doll Ivy and Ivory 2-pack.
trivia
She comes with a stand like her big sister
She is the first holiday collecter little
Sshe is the first little to have a stand