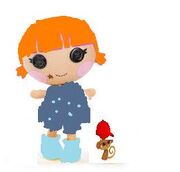 Grease Fender Bender is the little sister of Ace Fender Bender.
Section heading
Personality: Grease is mischievous, playful, and always loves helping Ace in fixing things (even though she gets in the way sometimes).
Appearance: Grease is a fair skinned girl with bright pink cheeks (unlike Ace, she does not have any freckles) and has typicial black button eyes and has Sprinkle Spice Cookie's hairstyle and her hair color is bright orange (sort of like Pickles') and she wears a pair of dark blue overalls (with little blue spots to look like grease stains) and has a recolor of Sprinkle Spice Cookie's shoes (same color as the blue spots on her overalls)
Pet: Grease has a little monkey just like Ace (who wears a red baseball cap).
Home: Grease lives with her big brother, Ace.
Sewn on: March 27 (Same day as Yuki Kimono)
Merchandise: Lalaloopsy Little
Trivia: Grease is a tomboy. Her pet is a little monkey like Ace's, but has a red baseball cap and is smaller. Grease has her own car (It's actually a bicycle, but she likes to call it a car just for the fun of it).
Ad blocker interference detected!
Wikia is a free-to-use site that makes money from advertising. We have a modified experience for viewers using ad blockers

Wikia is not accessible if you've made further modifications. Remove the custom ad blocker rule(s) and the page will load as expected.