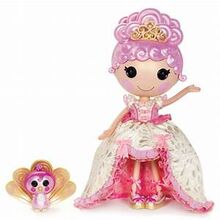 Goldie Luxe is Lalaloopsy Land's most regal resident. She has a heart of gold and she loves fancy dresses. Anything she touches turns to gold. Her name is based off of a play on words of Goldie Lockes, while also possibly hinting at her luxurious lifestyle!
About GoldieEdit
AppearanceEdit
Goldie Luxe is a fair-pale skinned Lalaloopsy girl with metallic, pale pink hair worn up in a single bunch full of curls with a fancy gold tiara in front of it. Her bangs curl all around her face to frame it. Her eyes are basic black while her blushing cheeks match her hair.
Goldie's dress is very fancy and detailed, consisting of a soft pink blouse with white at the center and top half of her ruffled sleeves, with a light pink ruffle beneath them. Going down her chest are pale pink bows and a single line of magenta around the hem. Her skirt is full and bell-shaped, similar to a bustle and train. It is white with silvery petal print and pink lining, and hemmed with pink ruffles. The skirt is high in the front and to the ground in the back. For shoes, Goldie wears gold flats with magenta bows at the toe and small white ruffle detailing. Thin silk pink ribbons tie around her lower legs.
PetEdit
Goldie Luxe's pet is a light metallic pink and fuchsia peacock. It has a small swirl of hair on its forehead and a curl that sticks up. Its beak is gold to match its feet and big feathers while its blushing cheeks are the same color as its head. On it's neck is a white cloth resembling a cravat.
HomeEdit
Goldie Luxe full poster
Goldie's house is designed to look like a large white layer cake on top of a massive display dish. The windows and edges are decorated with gold lining. A golden path leads to the stairs up to her front door. On the top are golden decorations mainly used for cakes, and several Whoopie pies. Many pastries on display dishes are scattered around her yard.
TriviaEdit
February 5th is the Day the Largest Gold Nugget was Found.
Because of the gold touch, she may have similarities to King Midas.
Her dress is cut short in her mini doll.
She is a Collector's Edition.
Her character is based off Goldie Locks.
She is the only Lala with a metallic outfit.