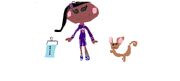 Gimnasta Bounce and Tumbles is a gymnastics loving gal! She and her sister Gabby Bounce and Tumbles are great  sports, who also love to win!
Personality
Gimnastia is nice, but she can tend to be a little competitive in gymnastics. She helps her little sister with tricks that are hard for her, and she loves making new friends.
Apperance
Gimnasta has black button eyes, blck hair in a pony tail that is held up with a dice hairtie. Her skin is a light brown and her cheeck blush is pink. She comes wearing her purple gymnastics warm up suit, and blue tennis shoes. She comes with a waterbottle.
Pet
Gimnasta's pet is a flying squirrel .
Birthday
Gimnasta's birthday is on September 22 ( National Gymnastics Day).
Home
Gimnasta Lives in a Gymnastics themed house with her sister Gabby.
Trivia
Gimnasta's name is the word Gymnast in Spanish.
Her pet is a refrence to Gymnasts, sience they fly like flying squrriels.
She is  the first lalaloopsy to have that hair style.
Gallery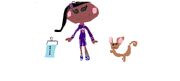 Ad blocker interference detected!
Wikia is a free-to-use site that makes money from advertising. We have a modified experience for viewers using ad blockers

Wikia is not accessible if you've made further modifications. Remove the custom ad blocker rule(s) and the page will load as expected.