Gasoloosters are furry creatures who eat Lalaloopsies and their pets.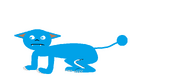 Appearance
They have fur, which is randomly colored, sharp teeth and claws, eyes shaped like a dog's, but painted like a human's, tail with a ball in the end of it & paws
Personality
They are afraid of humans, but eat Lalaloopsies
Diet: Lalaloopsies, Trees, Fruits & Vegetables, Water, Milk and Citrus.
Ad blocker interference detected!
Wikia is a free-to-use site that makes money from advertising. We have a modified experience for viewers using ad blockers

Wikia is not accessible if you've made further modifications. Remove the custom ad blocker rule(s) and the page will load as expected.