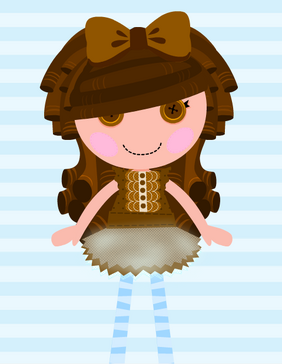 Fizz E. Soda Pop is part of the Sweet Drinks collection.  She was sewn on May 8 which is have a coke day with a pop bottle cap.
Personality
Fizz E. is super loud and loves to make popping noises with her mouth. She's a real bubbly girl and loves to sip the fizz from a soda pop as it begins to rise. Her favorite flavor of soda pop is Root Beer!
Appearance
Fizz has caramel colored hair with a caramel bow. She has caramel eyes and wears a caramel top. She wears a glassy skirt with a faint caramel tint. She wears blue and light blue leggings.
Pet
A fizzy weasel.
Home
A house.
Merchandise
Ad blocker interference detected!
Wikia is a free-to-use site that makes money from advertising. We have a modified experience for viewers using ad blockers

Wikia is not accessible if you've made further modifications. Remove the custom ad blocker rule(s) and the page will load as expected.