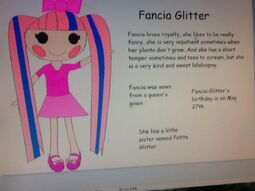 Fancia Glitter loves royalty, she likes to be really fancy. She is very impatient when her plants don't grow. And she gets really impatient sometimes and tends to scream, but she is a kind and sweet lalaloopsy. Fancia is Candycrushlover100's loopsy.
Appearance
Fancia has pink hair styled in long pigtails with some baby blue streaks. She has pale skin, black eyes and rosy cheeks. She has a magenta bow on top of her head. She wears a simple hot pink shirt with some slightly visible pink circles. She wears a smooth skirt with some magenta shoes and pink bows
Siblings
She has a little sister named Petite Glitter
Pet
She has a pet bird.
Episode Appearances
None yet.
(Ask me if you want Fancia to star in one of your episodes)
Ad blocker interference detected!
Wikia is a free-to-use site that makes money from advertising. We have a modified experience for viewers using ad blockers

Wikia is not accessible if you've made further modifications. Remove the custom ad blocker rule(s) and the page will load as expected.