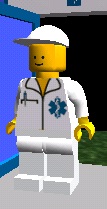 Enter is one of the nurses on Lego Island. He works for Dr. Clickitt at the Lego Island hospital along with his colleague Return.
Personality
Canon
Enter along with his partner Return are some of the wackiest nurses you'll ever meet. He is usually seen with Return and the two are constantly bickering with each other. - http://lego.wikia.com/wiki/Enter
Fanon
Enter along with Return assist Rosy when Dr. Clickitt gives her the mission of driving the ambulance.
Appearance
He's a lego who wears a white shirt with the star of life printed on it, a white baseball cap and white trousers.