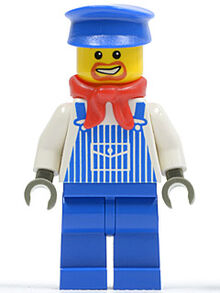 Engineer Max is the chief engineer of the Lalalego Railway Company.
Personality
Canon
Max has a great liking for trains and is know to operate the Lego Express along with his friend Conductor Charlie. - http://lego.wikia.com/wiki/Engineer_Max
Fanon
Max is was involved in building the Lalalego Railway between Lego Island and Lalaloopsy Land. He's the chief engineer of the railway and runs the shunting yard on Lego island. He's one of the railway managers and usually assigns the work to all the train operators and trains new ones like Peanut Big Top.
Appearance
Max is a lego with a brown beard. He wears a white shirt, blue overalls, gray gloves, a blue conductor's hat and a red bandanna.
Trivia
He was one of the mascots for the Lego Train series between 2001 and 2004.
Ad blocker interference detected!
Wikia is a free-to-use site that makes money from advertising. We have a modified experience for viewers using ad blockers

Wikia is not accessible if you've made further modifications. Remove the custom ad blocker rule(s) and the page will load as expected.