Draw E. Doodles is the little sister of Trace E. Doodles. She is part of the Color Me Littles line.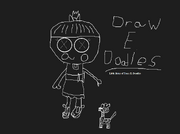 Personality
She is always willing to help others. She loving drawing fun things with Trace E.. She is very kind, warm-hearted, and giving, which is why she can be a friend to almost anyone. She loves her big sister.
Appearance
Coming soon!
Pet
Her pet is a Chalk Giraffe with a chalk tail.
Home
She lives with Trace E. Doodles and she loves her.
Merchandise
Lalaloopsy Color Me Littles Draw E. Doodles
Lalaloopsy Color Me The Chalk Sisters Sister Pack
Her Animation Appearances
Her first appearance is in the Lalaloopsy Littles TV Series episode, Scribbles Draws the Line.
She secondly appeared in the movie, Lalaloopsy Color Me: The Big Drawing Adventure.