Name: Drac Vampbat
Sewn-On Date: November 8 (Bram Stoker's birthday.)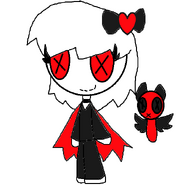 Sewn From: A real vampire's cape!
Pet: Bat
Description: Drac is a vampire Lalaloopsy! She enjoys flying through the night sky with her pet bat and playing with her werewolf cousin Pawprint Wolfhowl! She prefers cherry snow cones instead of blood, so don't be scared when you see her!
Home: She lives in a mansion similar to Scraps Stitched N Sewn. She likes to sleep either upside down or in a coffin.
​Trivia
Unlike her cousin, who is the first werewolf Lalaloopsy OC, there have been vampire Lalaloopsy OCs before.
She and Pawprint Wolfhowl are cousins, which is kind of ironic since Drac is a vampire and Pawprint is a werewolf.
She dosen't combust in the sun (neither does she sparkle) but she does get REALLY bad sunburns.
She can turn into a bat which resembles her pet, except her bat form is white with red eyes.
Her cape can turn into bat-like wings.
Like her cousin, she wears pants as well.
Ad blocker interference detected!
Wikia is a free-to-use site that makes money from advertising. We have a modified experience for viewers using ad blockers

Wikia is not accessible if you've made further modifications. Remove the custom ad blocker rule(s) and the page will load as expected.