Diana Green Leaf is a bossy but polite girl who needs water to live. She has a pet flower that can help her with anything possible. Diana's favorite color is green, and in the doll version, her dress is stitched together with yarn, to make it feel like wet grass.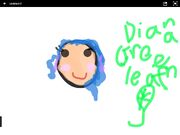 Tto be continued, I'm doing some research on Diana and see if she can give me more info about her.
Ad blocker interference detected!
Wikia is a free-to-use site that makes money from advertising. We have a modified experience for viewers using ad blockers

Wikia is not accessible if you've made further modifications. Remove the custom ad blocker rule(s) and the page will load as expected.