Cream Pink Pastry is the little sister of Blush Pink Pastry or Blushy Pink Pastry.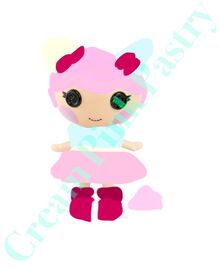 About her
She was sewn on May 15th,Sewn from the same thing as Blushy or Blush,her pet is a dollop of whip cream.
Appearnace
She has the same hair as blush or blushy same dress but smaller,but she has dark hot pink socks and hot pink shoes.
Home
She lives with her sister
Personalty
She's part tomboy and part girly girl.
Trivia
Her favorite color is the text color for her name.
She is a recolor of Wishes.
The whip cream is facing opesit beacause it's shy.
Gallery